LimoUSA – Premier Shuttle Bus Service Provider
Welcome to LimoUSA, your reliable provider for top-tier limo and party bus services. We are proud to introduce our exceptional shuttle bus services. Whether you're coordinating a large event, planning a team excursion, or just want a comfortable and stylish ride to your destination, LimoUSA is your perfect choice.
The Shuttle Bus Experience
As a leader in luxury transportation, LimoUSA offers a shuttle bus service that delivers a seamless and sophisticated journey for all passengers. We understand that planning group transportation can be a daunting task. That's where shuttle buses come into play.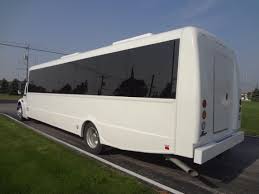 What is a Shuttle Bus?
A shuttle bus is a large vehicle designed to transport numerous passengers from one location to another with ease and convenience. Unlike public transportation, shuttle buses are chartered for specific groups and events, meaning you have the entire vehicle for your party, ensuring comfort, privacy, and direct transportation to your destination without any unwanted stops along the way.
These buses are extremely versatile, with a wide range of applications from airport transfers, corporate events, weddings, school trips, or just a night out with friends. Shuttle buses are like your personal mobile hub, keeping everyone together, offering a more social, unified experience.
What Makes Shuttle Buses Popular?
1. Group Cohesion: With a shuttle bus, everyone travels together. This unity makes shuttle buses popular for occasions where maintaining the group dynamic is essential, such as corporate team-building events or weddings.
2. Convenience: Coordinating multiple cars for a single event can be stressful and time-consuming. With a shuttle bus, everyone arrives and leaves at the same time, eliminating the chances of late arrivals or early departures disrupting your event.
3. Comfort and Luxury: Shuttle buses are not just about functionality; they're about luxury and comfort too. Spacious seats, legroom, onboard entertainment, air-conditioning, and sometimes even refreshments, transform your journey into a thoroughly enjoyable experience.
4. Cost-effective: When the cost is divided amongst the passengers, shuttle buses can be a surprisingly affordable solution for group travel. They eliminate the need for multiple taxis or the stress of finding parking spaces at your destination.
5. Environmentally Friendly: Using a single vehicle for group travel significantly reduces the carbon footprint compared to using multiple cars. In this way, opting for shuttle bus service is an environmentally conscious decision.
6. Professional Drivers: Our shuttle buses come with experienced and professional drivers. They take care of navigation, traffic, and parking, allowing you to sit back, relax, and enjoy your journey without worrying about the logistics.
Shuttle buses are perfect for moving a large number of people comfortably, safely, and efficiently. Rather than traveling in separate vehicles or depending on public transportation, a shuttle bus ensures everyone arrives at the same place at the same time. No more worrying about late arrivals or losing people along the way. Shuttle buses are a popular choice for corporate events, weddings, airport transfers, school trips, and city tours.
Our Fleet
At LimoUSA, we offer an array of shuttle bus options to meet all your transport needs.
1. Standard Shuttle Bus: With seating capacities of 20 to 30 passengers, these are perfect for short trips, airport transfers, corporate events, or sightseeing tours. They come equipped with comfortable seating, air conditioning, and ample luggage space.
2. Minibus: Our minibuses can accommodate 15 to 20 passengers, providing a cozy environment for family outings, small group events, or a night out with friends. These minibuses offer luxury seating, entertainment systems, and a professional driver to take care of navigation.
3. Executive Coach: These premium shuttle buses offer luxurious seating for 30 to 50 passengers, making them ideal for large corporate events, weddings, or extended trips. They feature onboard restrooms, Wi-Fi, power outlets, reclining seats, and entertainment systems for the ultimate in comfort and convenience.
4. Party Bus: This is your mobile party headquarters, perfect for bachelorette parties, prom nights, or any other occasion where you want to keep the party rolling. Our party buses come with mood lighting, high-quality sound systems, dance floors, and a well-stocked bar, offering a nightclub experience on wheels.
Benefits of Using Our Shuttle Bus Service
1. Safety: All our vehicles are regularly serviced and maintained to the highest standards, and our drivers are professionally trained. This ensures that your journey is always safe and secure.
2. Comfort: With our luxurious seating, ample legroom, and modern amenities, we guarantee a comfortable ride every time.
3. Convenience: We handle all the driving and navigation, allowing you to relax and enjoy the journey. Our services are designed to accommodate your schedule, ensuring timely arrivals and departures.
4. Economical: Using our shuttle bus service can be cost-effective, particularly for large groups. You can save on parking fees, fuel costs, and the expense of using multiple vehicles.
5. Eco-friendly: By reducing the number of vehicles on the road, our shuttle buses help to decrease carbon emissions. This is a great way to travel responsibly and reduce your environmental footprint.
Frequently Asked Questions about Booking Limo and Party Bus Rentals for Shuttle Bus
We recommend booking as soon as you have your event or trip details finalized. However, we strive to accommodate last-minute bookings whenever possible.
Yes, we offer shuttle buses that are equipped with wheelchair lifts and other accessibility features. Please let us know your specific requirements when booking.
Yes, food and beverages are allowed. However, we ask that you help us keep the vehicle clean for the next passengers.
No, we don't limit the distance for our shuttle bus services. Whether you're going on a short trip within the city or a long-distance journey, we are here to meet your transportation needs.
Absolutely. All our drivers are professionally trained and experienced. They are committed to ensuring your ride is comfortable, safe, and enjoyable.