Rent a Funeral Limo Or Town Car Sedans With LimoUSA
Planning a funeral involves dealing with immense stress. The grief of losing a loved one is coupled with the responsibility of ensuring everything is appropriately arranged for the family. At LimoUSA, we empathize with your situation and offer our specialized funeral limo services to alleviate some of your burdens. We handle the procession with the utmost respect, ensuring smooth operations at an affordable price.
Funeral Limo Service
Experiencing the loss of a loved one is never easy. We can only celebrate their lives and continue to offer support to others during such times. Though transportation might not be the primary concern during funeral planning, it holds significance. Ensuring everyone can attend and pay their respects is a crucial aspect, and we strive to make it convenient. Our vast network of vehicles operates nationwide, offering 24/7 service across the entire US. We take care of the procession, wherever it might be, allowing you to focus on yourself and your family. Our first-class fleet includes executive sedans, stretch limousines, and classic hearses, depending on your requirements. We have sedans, stretch limos, and shuttle buses at the ready when most needed.
We understand the difficulties you're going through, hence we have simplified the process of setting up vehicle arrangements for your funeral procession. A quick search is all it takes to see our available vehicles. Our funeral transportation services will cater to your guests' needs, and our drivers will treat your grieving family with utmost respect and care. To set up transportation arrangements, fill out the search form on our website. If you need assistance, call us or send us a message, and we'll aid you to the best of our ability.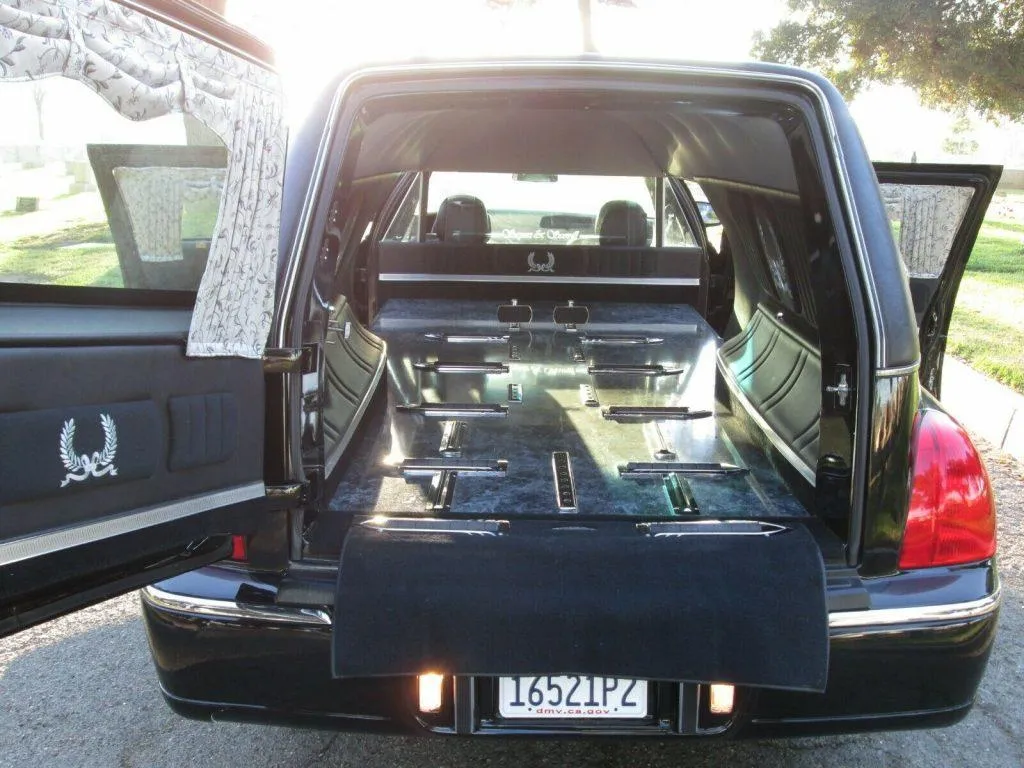 Funeral Transportation Services
Funeral Car Service, Funeral Sedans, Funeral Limo Service, Funeral Limousines, Funeral Shuttle Bus Service, Funeral Shuttle Buses, Funeral Charter Bus Service, Funeral Charter Buses
Accommodating Funeral Limo Service
The passing of a loved one requires having fewer things to worry about. Our funeral transportation services are there for you. We realize how tough these times can be; thus, we are ready to provide simplified transportation, helping you lessen the burden. We take pride in our limousine service. When you select us for your funeral transportation requirements, you can be assured of our support at every step. From the moment your family is picked up from their home until they arrive at the cemetery, we handle every detail. A simple call or click online, and our dedicated team will help coordinate everything. We ensure everyone reaches their destinations stress-free during the visit to the funeral home or cemetery.
At LimoUSA, we acknowledge that every family is unique. We also believe that every person experiencing a loss deserves to have their loved one's final wishes honored in the best possible way. Whether you're planning a funeral, memorial service, or a celebration of life, we can assist you in arranging everything with respect and simplicity. We offer a full range of options including limousines, sedans, vans, buses and even party buses for a truly unique tribute. Our fleet is fully customizable, suiting your specific plans and needs. You can arrange all the details over the phone by calling 1-888-503-8018, where our reservations experts will guide you through the options and costs. They'll also provide pictures of the vehicles for better visualization before you make your final decision.
With over 2,500 positive reviews and 10+ years of experience in providing this service, we assure you're in good hands.
Black Stretch Limousines Available At Any Moment
Funeral transportation services have long been an integral part of the process. The thought of a funeral service without a limousine or car to transport the family and friends of the departed is hard to imagine. The LimoUSA team is here to ensure your service runs smoothly and without hassle, no matter when or where it occurs. We offer black stretch limousines available at any moment for your funeral, so that you're always prepared. Regardless of the ceremony's location, we can assist, providing a sleek, black stretch limousine for discreet service during the ceremony. Throughout the ceremony, the driver will wait until all guests have reached their final destination.
LimoUSA takes pride in providing reliable funeral transportation services, allowing families to concentrate on what's truly important: honoring their loved ones. We understand how demanding planning a funeral can be and want to alleviate some of that pressure by offering this essential service. Our goal is to see our clients content during these unfortunate times, and we believe that helping to make the process as stress-free as possible is one way we can achieve this goal. Do not hesitate to reach out if there's anything we can assist with.
Focus on Grieving When You Rent A Funeral Car
Grieving can be overwhelming, especially when considering all the logistics involved in arranging a funeral. When you choose our services, we take care of everything, from transporting you to and from the visitation at the funeral home to driving your family members between the service at church, burial or cremation, and reception. We understand that funerals can be highly emotional, so we strive to ensure that every aspect of your transportation experience is seamless and comfortable. We offer flexible scheduling options, allowing you to book our services when it suits you best—whether that's well in advance or at the last minute.
We understand that funerals gather many different kinds of people: elders may need rides to and from events; parents may want their children to travel together; out-of-towners may have flown in to attend; and some people might not be able to drive themselves or don't have anyone else who can. We work with you to ensure those requiring transportation assistance get it, allowing everyone to focus on their grief instead of transportation logistics.
Finding the Right Limousine or Bus for a Funeral
Funeral limo services come in various sizes and styles, customizable to suit your family's needs. When you contact us, we'll discuss your requirements, suitable vehicle size for your group, and the most appropriate type of transport for your situation. You can choose from executive sedans that accommodate 4 people, stretch limousines that accommodate six to 20 people, party buses for up to 30 people, minibuses for 15 to 30 people, or charter buses that can seat 56 passengers. We understand the importance of families having transportation options that meet their needs during such trying times. That's why we offer a broad range of vehicles—so you can find something that suits your budget and objectives while still providing the level of comfort and convenience that you deserve on this difficult day.
Our funeral limo services and bus rentals are easily accessible online. Simply complete a search in your area to reveal all the vehicles offering service in your area. Choose the best ride for your group and make a reservation online. To maintain affordability for everyone in your party, consider splitting the cost of your limo rental. Our customer support team is also available to guide you through the process.
Searching for other special event transportation? We also offer airport transportation, wedding, birthday, corporate, and prom services.
Organizing Costs for Funeral Limo and Party Bus Services
Overseeing the budget for a funeral limousine service can be challenging, particularly when trying to balance cost and quality. LimoUSA provides flexible payment solutions, including Affirm payment plans. This ensures you can afford the necessary vehicles for your clients' transportation needs. When you opt for our service, we collaborate with you to ensure that every facet of your operation works seamlessly. Our goal is to deliver appropriate vehicle solutions for your clients while ensuring operational excellence, preventing any issues from slipping through the cracks.
Funeral Bus Hire Services
Planning a funeral involves paying attention to every detail of the event. This includes arranging transportation for your guests and coordinating with the funeral home about the expected number of people arriving by bus. LimoUSA offers a broad selection of bus hire options. Our fleet includes black and white charter buses of various sizes, enabling you to select the one that suits your needs perfectly. Our dedicated team is ready to coordinate with the funeral home and any other parties involved, ensuring a seamless transportation service. Consider us if you are seeking a practical solution for transporting guests during this difficult time.
Dignified Funeral Car and Party Bus Service
When considering transportation for your final journey, it's important to reflect on your personal preferences and requirements. For a respectful and discreet service, consider hiring LimoUSA. Typically, immediate family members rent sedans in a color that corresponds with the limo or hearse. The average cost for the sedans starts at $100 per hour—however, it could go up to $200+ per hour for classic vehicles like a Rolls Royce. You can begin browsing our diverse car rentals through our online booking tool.
Why Opt for Limo Service for Your Funeral?
Convenience: Limo services, including party bus options, provide convenience to both the family and guests at a funeral. One significant aspect of funeral planning is ensuring everyone has a reliable mode of transportation, particularly those traveling from afar. Limo services collect guests from airports or train stations and transport them to their hotels or the memorial service venue. You don't need to worry about arranging your guests' transportation—simply inform them of their pick-up location.
Privacy: A funeral is a deeply personal event. It's a final opportunity to gather with family and friends to bid farewell to your loved one. You would want to spend this time with those who care about you the most, without concerns about transportation logistics or who will be driving. That's why choosing a funeral limo service, including party bus options, is crucial. A limousine rental offers the privacy needed to focus on honoring and remembering those who have passed away.
Organizing the Processions: Opting for a transportation provider like LimoUSA allows you to concentrate on your event rather than logistics. Our reservation team will arrange your rides in detail, enabling you to focus on other aspects of the service.
Affordable Funeral Bus Rental Packages
Planning a funeral involves several considerations, with budget often being a significant concern. Our bus packages are designed to handle all the details of your event. Through our partnerships with local bus companies, we can provide you with the local inventory pricing, helping you compare and find what works for you. Let us make it easier by delivering everything you need (within reason) at a price that suits your budget.
Planning Funeral Transportation for Over 10 Years
For over a decade, LimoUSA has been assisting people with funeral transportation planning. We understand the importance of getting value for your money, and we aim to ensure that when you choose us for your limo rental needs, you receive the best service possible. Our mission is straightforward: to provide high-quality service at a price that fits your budget. Since the 2000s, we've been arranging seamless transportation options.
Contact us today for a complimentary quote.
Tips For Selecting Your Funeral Party Bus and Limo Service
Keep your details ready. When you're prepared to book a funeral bus or limo service, having all the details of your trip at hand is crucial. This includes the date, time, and location of your event. Our reservation team can assist you with any additional inquiries you might have about your trip—but ensure you have everything else prepared beforehand.
Collect a headcount. When gathering a headcount for your group, include anyone who might ride with you—children, parents, grandparents, friends, and family members attending. You'll need an estimate of the number of passengers so that you can select the appropriate vehicles.
Reach out to our 24/7 reservations team. Once you have all the necessary information, simply call our 24/7 reservations team at 1-888-503-8018. We'll note down all your details and advise you on the most suitable vehicle for your situation.
Frequently Asked Questions about Booking Limo and Party Bus Rentals for Funeral
Funerals serve a greater purpose than just bidding goodbye. They offer individuals the opportunity to say farewell in a manner that resonates with them, allowing them to honor and celebrate their loved one's life. Funerals also represent hope—hope for those still living. At a funeral, we enable people to unite in remembering their loved one, cherishing their shared memories, and finding solace in each other. Funerals also represent a time when families come together to celebrate the lives of their loved ones, drawing strength from one another as they commence the process of moving on. As you plan a funeral or memorial service, consider how you'd like your loved one to be remembered. Our experts are here to help you plan a meaningful service that honors your loved one's life, reflects their personality and interests, and supports the family during this challenging time.
Funeral limousines and party buses form an integral part of the funeral procession. They transport the departed from the funeral service to the burial, church, or cremation site. The choice of a funeral limousine or party bus plays a significant role in the funeral procession, with family members typically using this vehicle to escort their loved one to their final resting place.
The most common term for this vehicle is a hearse. However, several different types of limousines and party buses are used at funerals, wakes, and memorial services. A hearse carries the coffin at these events, but not passengers. While we don't rent hearses at LimoUSA, we do offer a variety of passenger limousines and party buses for hire across the country.
Yes. You can schedule your vehicle to return you and your guests home, ensuring that you don't need to worry about logistics. At LimoUSA, we handle everything for you so that you can focus on what truly matters: commemorating the life of your loved one.
Various factors affect the overall price of hiring a funeral limo or party bus. These include the type of vehicle you choose, whether you need additional services, whether you plan on transporting guests, and how long it will take to transport all of your guests from one location to another (if necessary). Our prices start at $120 per hour for our standard vehicles, rising depending on the type of vehicle and any additional services required.