Make Your Kid's Party Exciting with a Limo
Coordinating a kid's birthday bash can be quite demanding. From sending out invites to arranging decorations and activities, there's a lot on your plate. But one aspect you can set aside and trust us with is transportation. Many parents opt for LimoUSA for their party bus rentals or limos, and the reasons are evident. We're a leading player in the US offering transport solutions, boasting over 12,000 vehicles in our fleet. We'll match you with one of our 5,000+ affiliates who will assist in planning and executing your event seamlessly. Our affiliates are stationed nationwide, ensuring a safe commute for you and your guests, no matter where you are.
If you are planning your kid's birthday celebration, our party buses and limos are ideal for you. We have an extensive range of vehicles replete with fantastic amenities to guarantee an extraordinary party for the kids. Our offerings range from laser lighting, Wi-Fi to audio and video gaming systems, promising an unforgettable birthday. Nothing spells a happy birthday better than a party on our bus!
Need a quote? We're here to assist. Reach out to our reservation specialists at 1-888-503-8018. Share the specifics of your event, and we'll craft a tailored itinerary fitting for your kid's birthday, sending you the pricing and images of the vehicles available. Our website also provides prices and images of the options, making it simple for you to select the perfect vehicle.
Children's Party Limo and Party Bus Services
Organizing a children's birthday party requires careful attention to detail, from invitations to decorations, and, of course, fun entertainment. But what about transportation? Many parents are choosing to book with LimoUSA for their party bus and limo service needs, and for good reasons. LimoUSA is a leading name in the transportation sector, boasting an impressive network of over 12,000 vehicles. We work alongside more than 5,000 affiliated partners to plan and execute your event seamlessly from start to finish. With affiliates stationed across the nation, we ensure safe transport for everyone, regardless of where you or your guests reside.
Planning a memorable birthday for your kid? Our party buses and limos are an excellent choice. We have a variety of vehicles decked out with fantastic amenities to ensure a one-of-a-kind party experience. Laser lighting, Wi-Fi, and audio and video game systems are just some of the amenities we offer to guarantee your kid the best birthday ever. Nothing shouts "Happy Birthday" louder than a party bus!
Ready for a quote? Our team of reservation specialists is here to assist. Contact us at 1-888-503-8018, provide us with your trip details, and we'll prepare a custom itinerary suitable for your kid's birthday. We'll send you pricing options and vehicle photos, simplifying your decision-making process. You can also view prices and vehicle options directly on our site.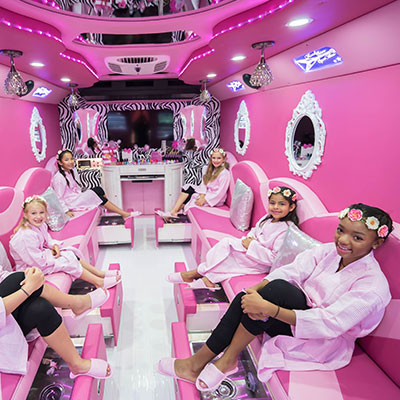 Kids Party Buses & Limo Service
Our wide range of services is designed to make every birthday fun, memorable, and safe. In addition to traditional birthday elements like cake, balloons, and presents, we provide an exhilarating party bus experience, essentially transforming the vehicle into an entertainment hub. Whether you prefer onboard music or hooking up your portable speakers, our party buses offer flexible options for everyone's tastes.
We offer buses and limos in various sizes, suitable for small parties of 10 or large groups of 50. Each vehicle comes equipped with unique features and amenities to create lasting memories at your next party. Our goal is to help you remember your party forever by providing a myriad of options for customizing your event.
Knowing that budgeting is important when throwing a party, we offer a range of packages to suit everyone's financial capability. From our basic package to our deluxe ones, there's an option for everyone. Our excitement about party planning is infectious—we love brainstorming with our buses—and we're ready to help you plan your next event.
Booking with us is easy. Visit our site, choose the vehicle you prefer, and secure it with an initial payment. We'll send you an email confirmation with all the information about your reservation upon receiving your payment.
Frequently Asked Questions about Booking Limo and Party Bus Rentals for Kids Parties
You want your child's birthday to be memorable. That's why we're here: to help you plan the perfect birthday party for your little one. Here are some of the most popular places we visit: Movies: Enjoy the excitement of traveling in a party bus on your kid's birthday, heading to the movies. Skating Rink: Fulfill your kid's dream by renting a party bus to their favorite skating rink. Sports Game: Our limousine bus is ideal for sporting events, providing plenty of room for friends and family. Amusement Park: Make your day extra-special by renting a stretch hummer limo for a fun-filled day at the amusement park. Bowling: Rent a limo for your trip to the bowling alley for an exciting pizza and soda party. Water Park: Arrive at the water park in style with our coach bus. Zoo: Fulfill every child's dream of touring an outdoor zoo in a stretch limousine. Museum: Create an unforgettable learning experience at the science museum by renting
Kids Party Bus & Limo ServiceKids Party Limo ServiceKids Party LimosKids Party Bus RentalKids Party Bus Rentals Our Offerings When organizing a child's birthday celebration, you want it to be enjoyable and memorable. You want your guests to have an incredible time, and you want to ensure everyone gets home safely. Besides the traditional cake, balloons, and gifts that are part of most birthday parties, there's a lot more you can do to make your child's birthday truly special. One such is arranging an exciting trip in a party bus. Renting a party bus is not just about transportation—it's about providing an entire entertainment system incorporated right into the vehicle. You can play music from your device via the onboard speakers, or even connect your portable speakers if you prefer. Whether you're in search of a party bus or limo, to make your birthday special we've got you covered. Our fleet consists of buses and limos of all sizes, so whether you need something that seats 10 or 50 kids, we can make it possible. Every vehicle is furnished with a plethora of features and amenities to create lasting memories at your party. Our mission is to help you organize a party that will be etched in your memory forever, offering a range of options to customize your event just the way you like. We understand that cost is a crucial factor while throwing a party, but we also know the importance of having the right vehicle for the occasion. That's why we offer a multitude of options, from our basic to our deluxe packages, catering to every budget. We relish in helping people plan their parties, and we'd love to help you plan yours too. Contact us today. Booking your next trip with us is straightforward. Visit our website, browse through the vehicles, and secure the one you like with an initial payment. Upon receiving your payment, we'll send you an email confirmation containing all the details of your reservation.
Birthdays are special, and you want your child's party to be something they'll cherish forever. That's why we're here: to help you organize the perfect birthday party for your kid. And the best part? We can drive you just about anywhere.